*This blog has been updated since its original publication on 04/03/2018
Joe Rogan recently sat down with award-winning actor, director, and producer Mel Gibson to discuss his and his father's stem cell journey. Joined by Stem Cell Institute founder, Neil Riordan, PA, PhD, Mel explains his father's health challenges and how stem cell therapy helped him live to the age of 101. During the interview, Dr. Riordan provides deeper insight into stem cell treatments.
Watch the Mel Gibson Stem Cell Discussion with Joe Rogan
Hutton, Mel Gibson's father, was facing major health problems. As Gibson explained, by the age of 92, "[My father] was doing all the old man stuff. His hip was killing him and he had multiple problems. But when the engine starts wearing out, you have to replace the carburetor and a few other things."
Gibson initially took his father to the Mayo Clinic because of its world-class reputation. They were able to stabilize Hutton and many of his health issues, including problems with his:
Heart

Kidneys

Lungs

Prostate
Despite these improvements, Gibson still wasn't confident about hip replacement surgery for his father. According to him:
They did the orthodox medical procedures allowed in this country, but I still had reservations about him getting a hip replacement. He was old, and of course, just the recovery from a traumatic surgery at that age is a big deal. My brother had suggested looking into adult stem cells. I had heard about them but wasn't so sure at first, but we eventually did and got them on the phone.
This was the start of Mel Gibson and his father's stem cell therapy journey. After talking with our team at Stem Cell Institute, he decided to give treatment a shot. 
To hear Joe Rogan tell Action Bronson about the power of stem cells in the life of his friends and family, click here! 
Traveling to Panama for Stem Cell Therapy
Our founder, Neil Riordan, PA, Ph.D., was concerned about Hutton's physical ability to travel to Panama for treatment. He required clearance from his medical team to travel to our stem cell clinic in Panama. "He wasn't in great shape," said Dr. Riordan. "As I recall, he was in a wheelchair when he got there and wasn't talking a lot. He [Hutton] was having a pretty rough time."
Fortunately, Hutton received medical clearance and traveled with his son to our clinic. Once in Panama City, Gibson had the opportunity to tour our facility. Describing our lab, he said, "I went into one of the clean rooms. They make you put on hats and gloves in these cold rooms where they're dividing cells and it's kind of miraculous."
Click here
to see Dr. Riordan's video of real stem cells dividing!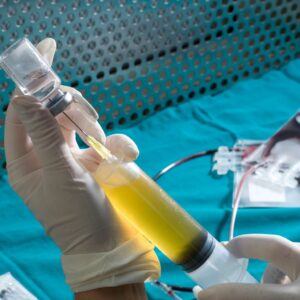 Hutton was immediately put into treatment when they arrived in Panama. As a man in his 90s, he required fresh stem cells to kickstart the healing process. These cells secrete cytokines and growth factors to support the immune system. 
When describing his father's response to treatment, Gibson states:
I can wax lyrical about that. [He was] almost 100 years old and went from being in pretty bad shape to having a new lease on life. He got a big dose locally in his hip, which fixed all his inflammation and pain. He started walking again, his kidneys were good, and the prolapsed valves in his heart healed. His cognitive powers also improved along with his eyesight.
Mel Gibson Undergoes Stem Cell Treatment
Gibson had undergone stem cell therapy treatment before in the United States, but he didn't experience the results he was hoping for. After seeing his father's results, he decided to try our clinic for more treatment.
Gibson describes the process this way:
I was 57 or 58 years old when I got stem cell treatment. I had torn labrums in both of my shoulders, arthritis, bone spurs, and rotator cuff issues. I went down and got 10 million cells in each shoulder. It didn't even hurt. He put the needle in and I could feel it pierce the capsule and I could feel pressure. I couldn't flap my arms for a couple of days, but after that, I didn't have any more problems.
Gibson would end up going through stem cell treatment twice. He enjoyed 18 months of being pain and discomfort-free, but his symptoms began to return. This prompted him to come back for another round of treatment. At the time of his appearance on The Joe Rogan Experience, it had been about three years without any previous symptoms.
Listen to the whole conversation here!
Do you want to find out what stem cells can do for you?
Click here
to apply today!
Mel Gibson recently stopped by The Joe Rogan Experience to discuss his and his father's recent stem cell treatments. Joined by Dr. Neil Riordan, Stem Cell Institute's founder, Mel explains the health challenges they faced and how stem cells helped his father live to the age of 101. Dr. Riordan provides much-needed insight into stem cell treatment along the way.
Stem Cell Institute in Panama City, Panama is at the forefront of applied stem cell research. Since our inception in 2006, we have performed over 25,000 procedures, helping thousands of families across the United States and around the world embrace the opportunity for a better life. Our medical team prioritizes the health and well-being of all our patients through top-notch stem cell treatment and care.