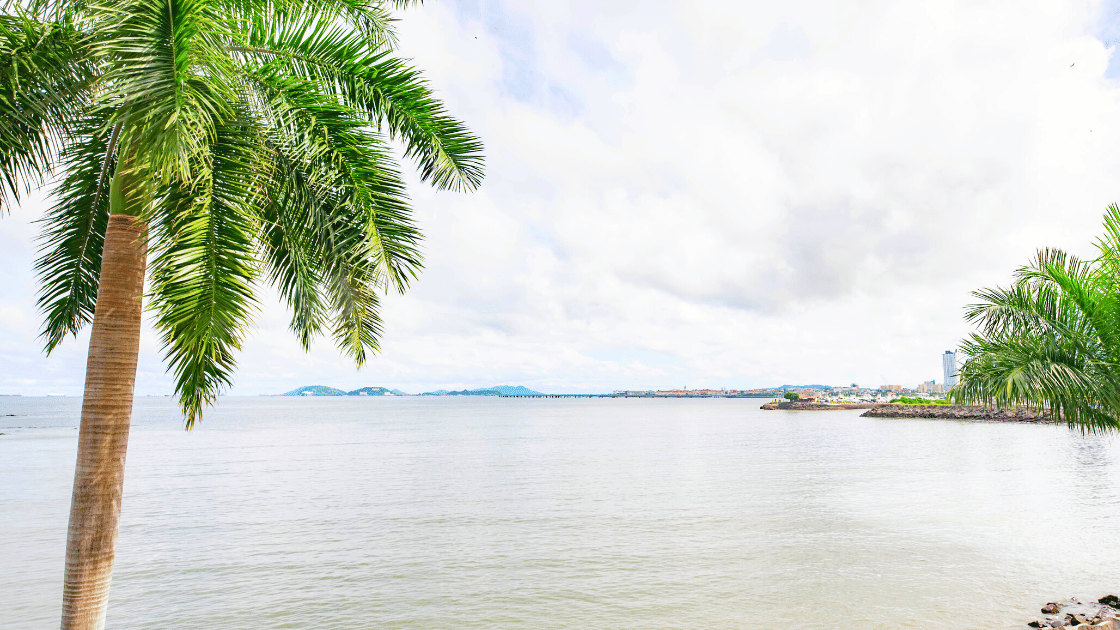 Stem cell therapy has improved the lives of countless patients across the globe. If you're interested in what it can do for you, you're likely wondering where to get stem cell therapy. While there are many stem cell treatment facilities, none compare to the experience and science you'll find at Stem Cell Institute.
One of the biggest differences between Stem Cell Institute and other facilities is the VIP experience you'll receive with us. From therapy approval to follow-ups after you leave, we're with you every step of the way. 
Stem cells are the basic building blocks of the human body and come in different types. We use specially selected Golden Cells™ to treat a wide variety of problems. These Golden Cells™ were developed by our founder and renowned applied stem cell researcher, Neil H. Riordan, PA, PhD.  Stem cell transplants can be done in different ways and yours will depend on your specific needs and level of health.
Where to Get Stem Cell Therapy
You have a lot of options when it comes to stem cell therapy. Treatments are commonly advertised by newly opened clinics in Central America, South America, and Asia. However, few (if any) can offer the same level of experience or professionalism as the Stem Cell Institute in Panama.
Stem Cell Institute in Panama City is a leader in applied stem cell therapy research and development. This form of regenerative medicine leverages specially selected mesenchymal stem cells to treat a variety of issues including autoimmune diseases like multiple sclerosis (MS), autism, sports injuries, and more. 
Recent studies have indicated that mesenchymal stem cells may even be beneficial for overall improvements in wellness and longevity. These regenerative treatments may aid in repairing damaged tissue or regulating your immune system.
Medical treatments are performed under the supervision of our highly-praised professional medical team, but the benefits of coming to Panama City, Panama go far beyond that. Another important aspect of visiting Stem Cell Institute is the ease and comfort that you will experience during your stay. This is the VIP patient experience we provide for every patient who comes to our clinic for treatment.
The VIP Patient Experience at Our Panama Stem Cell Institute
You can get medical treatments all over the world. However, there's only one place to experience the highest quality stem cell medical treatments and level of patient comfort—Stem Cell Institute in Panama City, Panama.
We understand traveling to a different country for medical care can be stressful. That's why we have made your comfort and experience one of our top priorities. Your VIP experience begins the moment you are approved for treatment. Our team of patient coordinators will work with you to schedule and arrange your treatment and stay with us. 
Our customs concierge team will be waiting for you at the gate when you land at the Tocumen International Airport (PTY). They will guide you through customs to the VIP lounge for refreshments while your luggage is processed by customs, collected by our team, and loaded into your awaiting transportation. Once that has been completed, you will then be chauffeured to the Hilton Panama for a stress-free check-in process.
A standard room is included in the cost of treatment, but the hotel provides much more than that during your stay. Both the Hilton and our clinic are located in the BICSA Financial Center. This allows for a convenient elevator ride from your room to our clinic, as well as easy access to all the amenities and experiences the Hilton and Panama City have to offer!
Enjoying Your Stay
There are endless possibilities for enjoying your stay in between treatment appointments. If you opt to stay in the hotel and prioritize relaxation during your visit, the Hilton Panama offers all the amenities you could want including: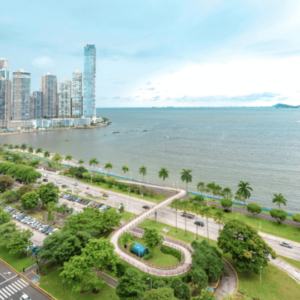 Room service

Rooftop outdoor pool

Free WiFi

Luxury Spa

Casino

Fitness center

Business center

Onsite Restaurants

And more!
The hotel also offers spectacular views of the Balboa Avenida waterfront and is located next to downtown Panama City and the Cinta Costera. The city is full of so much beauty and history that it can be difficult to decide where to go or how to get there. 
Fortunately, the hotel has a concierge on staff to assist with exploring the city between treatments during your stay. If time permits, we suggest visiting the Panama Canal during your stay.
Stem cell treatment can be a life-changing experience, but you get so much more as a Stem Cell Institute patient. As you board your flight back home, you will be changed in more ways than one. The Panama Hilton and the city itself will have transformed you from a medical tourist into a world traveler with memories that will last a lifetime.
Click here
to learn more about why we're your top choice for stem cell therapy!
Types of Stem Cell Transplantation Procedures
The quality of treatment we provide at Stem Cell Institute will meet or exceed the level of comfort you will experience during your stay. For over 15 years, we have been administering stem cells based on private research, published clinical trials, and real-world experience, with the goal of offering stem cell therapy that is both effective and safe. From the moment you are approved for treatment to after you leave Panama and return home, our team is here for you during every step of your journey.
Your treatment process starts as soon as you check in to our office. We perform a physical evaluation and, once that is complete, prepare you for your stem cell injections. Every patient's needs are different and transplantation methods can vary. The kind you receive is based on your specific health condition and needs.
Most patients receive at least three stem cell infusions during their stay at Stem Cell Institute. These sessions may include one or a combination of the following common methods:
Intravenous (IV)

Intramuscular (IM)

Intra-articular (IA)
Intravenous Stem Cell Transplants
An IV is the most common way to transplant stem cells in and throughout your body. Anesthesia isn't necessary for this method, although a Lidocaine topical spray may be used on the delivery area beforehand.
This method usually takes 20 – 30 minutes per session.
Intramuscular Stem Cell Transplants
The IM delivery method involves delivering the stem cells directly into an affected muscle. As with the IV method, IM delivery is generally safe and doesn't require anesthesia. 
Intra-Articular Stem Cell Transplants
Often used for treating arthritis, intra-articular stem cell transplants are when stem cells are delivered directly into the affected joint. It is a very safe procedure (zero serious adverse events) that doesn't require anesthesia.
What are Stem Cells?
For over 15 years, Stem Cell Institute has been providing advanced stem cell therapies utilizing in-house research and development. We have achieved our unparalleled reputation through the painstaking process of testing stem cells from a variety of sources including:
Bone marrow

Umbilical cord blood 

Adipose (fat) tissue

Umbilical cord tissue
This allows us to provide our patients with the safest, most effective treatments to our ability.  
Stem cells are the basic building blocks of the human body. Those derived from a patient are autologous, literally meaning, "obtained from the same individual." Those derived from a donor, on the other hand, are allogeneic. This means that they are from the same species but not genetically the same.
Stem cells are obtained from a number of sources including bone marrow, fat, and umbilical cord blood. Currently, we exclusively use stem cells gathered from the tissue of human umbilical cords that have been donated after healthy, normal births. Every donation is screened to meet the highest standards of the American Association of Tissue Banks. 
For more on what stem cells are,
click here
!
Commonly Used Types of Stem Cells
Two of the most common types of adult stem cells are:
Hematopoietic stem cells

Mesenchymal stem cells
Both types are multipotent. This means that they are able to change into a closely related family of cells—a process regularly done in laboratories. 
Also known as blood stem cells, hematopoietic stem cells (HSCs) can change into:
White blood cells

Red blood cells 

Blood platelets
Mesenchymal stem cells (MSCs) can be turned into a number of different cells including:
This type forms the foundation of our research and treatments. We don't currently use HSCs or any other type of stem cells in our treatments, as MSCs have consistently outperformed other types of cells over time at our clinic.
Where Do MSCs Come From?
There are several sources for MSCs being utilized across the globe thanks to years of research. Even today, there are a large number of trials and studies being performed to better understand and utilize them.
The most popular sources for MSCs include:
Human umbilical cord tissue

Bone marrow

Body fat
We only use stem cells derived from human umbilical cord tissue at Stem Cell Institute. However, knowing about other sources helps to better understand the power of umbilical cord MSCs. Their strength and quality are the pivotal foundation for our signature Golden Cells™.
Human Umbilical Cord Tissue
Human umbilical cord mesenchymal stem cells (HUCT-MSCs) are post-natal cells derived from the umbilical cords of newborn babies. All postnatal cells are classified as adult stem cells. Our umbilical cords are donated and screened after the baby has been born. This makes them an excellent ethical option for stem cell research and treatment. 
Bone Marrow
Bone marrow stem cells have been the most studied type since they were discovered in the 1960s. They have been indispensable for their use in blood marrow transplants and hematologic diseases such as leukemia.
Since the 1960s, their experimental use has grown to include the treatment of:
Peripheral vascular disease

Heart failure

Diabetes
We have used stem cells from bone marrow in the past but no longer use them in our treatment protocols. Our Golden Cells™ have shown time and time again that they give patients a better chance of improving.
Body Fat
Also known as adipose stem cells, these cells are sequestered in body fat and are generally inaccessible to the rest of the body for regenerative purposes unless they are isolated from the fat outside the body using a variety of techniques. Over the past 10+ years, stem cells harvested from body fat have been used to treat multiple sclerosis and other autoimmune disorders.
Our own founder has been at the forefront of using stem cells derived from body fat since 2008. Dr. Neil Riordan, PA, Ph.D., developed the first treatment using these cells in systemic immune system modulation. 
Some doctors continue to use adipose cells in the field of regenerative medicine thanks to their ability to be processed "at the bedside" without the need for a lab, but also without the ability to test for potency, and contamination. Adipose-derived MSCs may be capable of treating autoimmune diseases due to their ability to suppress pathological immune responses in the body and reduce inflammation but their potency and ability to proliferate in the body is not on par with MCSs derived from umbilical cord tissue.
As with bone marrow cell types, we have used body fat stem cells for treatment in the past. They showed themselves to be somewhat effective in treating:
Multiple sclerosis

Osteoarthritis

Rheumatoid arthritis 
As we did for bone marrow-derived cells, we have stopped using adipose-derived cells in favor of HUCT-MSCs for our treatments. 
Our research and treatment experience suggests that our Golden Cells™ are superior for:
Managing inflammation

Promoting tissue regeneration

Regulating the immune system
Golden Cells™: What Makes Our Stem Cells Unique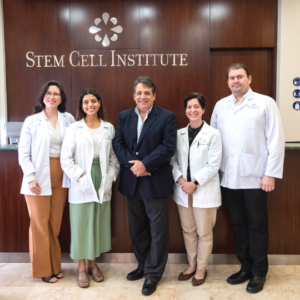 Dr. Riordan and the rest of our team began to notice something during our past 15 years of research and treatment—some of our patients experienced outcomes that far exceeded expectations. This prompted us to do an analysis of past data to determine if there was a connection between them. What resulted was a discovery that laid the foundation for our signature Golden Cells™.
In the majority of our most successful cases, the stem cells we used came almost entirely from six cell lines. These lines only multiply under just the right conditions. As we probed deeper, we learned that these lines had a unique molecular signature. We discovered that not all MSCs are created equal and began to focus our efforts on these specific cell lines.
Stem Cell Institute is the only stem cell treatment center that can correctly identify these particular cells and reproduce them for our patients. This allows us to treat patients suffering from chronic diseases in our center located in Panama City, Panama. When you choose Stem Cell Institute for treatment, you get more than a VIP experience—you get what we continuously develop to be the best stem cell treatments available in the world.
Click here
to learn more about Golden Cells™ and our cell selection process! 
Adult vs. Embryonic Stem Cells 
Adult stem cells can be found in the tissues of practically every human tissue. Also known as somatic stem cells, these cells don't have a specific function (undifferentiated). They exist in the body for decades and are used to replace cells that are lost in processes such as blood cell formation.
Embryonic stem cells, on the other hand, are often gathered from embryos during the in vitro fertilization process. This is often done around the 4 – 5 day mark. Other non-adult cells include fetal stem cells.
Embryonic and fetal stem cells form tumors in humans. They also present ethical problems for many patients, which is why we don't use them. Instead, we exclusively use stem cells gathered from donated human umbilical cords after birth. Not only are they a more ethical option for many patients, but they are also the source for our superior Golden Cells™ discovered by our founder, Dr. Neil Riordan.
Are you wanting to learn more about how stem cell treatment may be able to help you?
Click here
to apply today! 
Stem Cell Institute provides a VIP experience unlike any other treatment facility. From the moment you're approved for treatment, we will be with you every step of the way to ensure you have the best experience and the safest, most effective treatment we can offer. Cell transplants can be performed in different ways and the kind you receive will depend on your needs and health status.
Stem cells are an essential building block of the human body. They come in different types and can be gathered from different parts of the body including umbilical cords, bone marrow, and fat. At Stem Cell Institute, we exclusively used umbilical cord stem cells that have been donated from normal, healthy births. This is how we have developed our proprietary Golden Cells™.
Stem Cell Institute in Panama City, Panama is at the forefront of applied stem cell research. Since our inception in 2006, we have performed over 25,000 procedures, helping thousands of families across the United States and around the world embrace the opportunity for a better life. Our medical team prioritizes the health and well-being of all our patients through top-notch stem cell treatment and care.