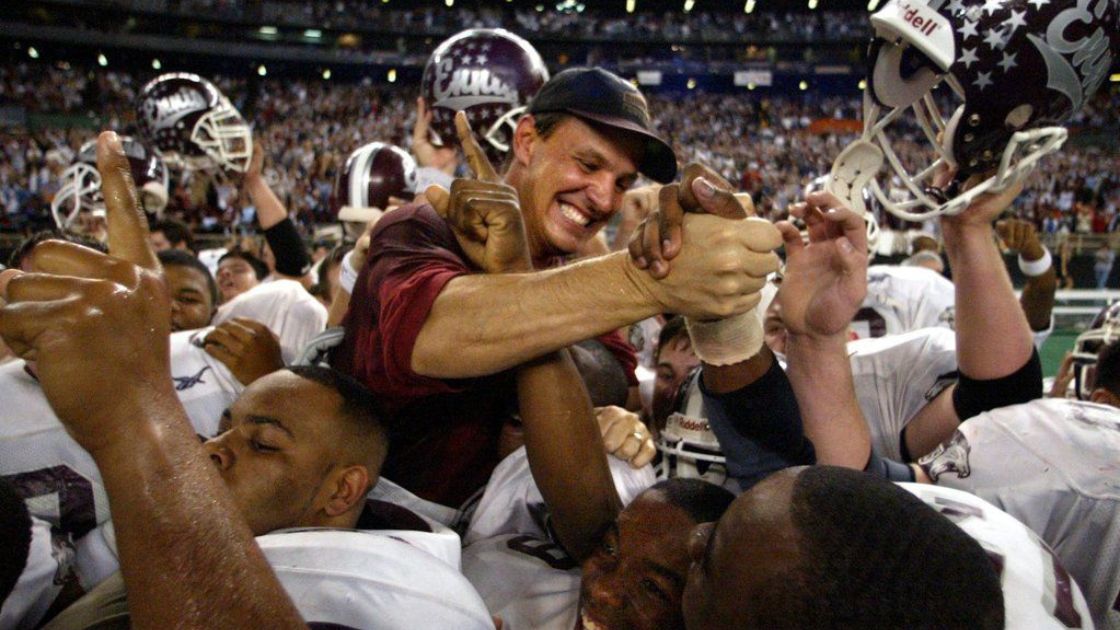 Sam Harrell was coaching football at Ennis High School in Texas when he was struck hard by a multiple sclerosis (MS) diagnosis. His 2005 diagnosis forced him to retire and sent him on a years-long journey looking for a solution. Following several rounds of stem cell therapy in Panama at the Stem Cell Institute, Sam has returned to coaching football—something he thought he would never be able to do again.
Stem cell therapy for MS changed Sam Harrell's life. He has been kind enough to send us this video documenting his progress from 2010 to 2014. With this video, Sam hopes to show others the life-changing power of stem cell treatment.
Celebrated Football Coach Diagnosed with Multiple Sclerosis
Sam Harrell is one of the most celebrated high school football coaches in Texas. He led the Ennis Lions to 13 playoffs and won three state titles. That was until being diagnosed with MS. He began experiencing symptoms of the autoimmune disease in 2005. As it progressed, Sam gradually lost mobility until he decided to retire.
Like other autoimmune diseases, multiple sclerosis caused Sam's immune system to attack the healthy cells in his body. The disease is known for attacking the myelin sheath that protects the nerve fibers responsible for communication between the brain and body. Symptoms can vary widely from patient to patient, making it difficult to diagnose in many cases.
To learn how stem cell treatment for MS may be able to help you,
click here
!
Not one to give up easily, Sam stayed open to the possibility of treatment. This eventually led him to stem cell therapy for MS. Although hope was in sight, it was still a long road to recovery. Sam required three treatments before he saw the full effect of stem cells on his body.
Neil Riordan, PA, Ph.D., is the founder of Stem Cell Institute. He was cautiously optimistic about Sam's case, understanding that MS is a complex condition that affects people in different ways. He said of this particular case, "It seems like he got the maximum benefit during his third treatment."
Click here
to learn more about how stem cells helped Sam Harrell get off the bench! 
Sam Harrell Receives Stem Cell Therapy for MS
Sam's video is a perfect example of how life-changing stem cell therapy can be. His homemade video begins in June of 2010, five years after he received his diagnosis. 
MS had taken its toll on Sam's body, reducing him to 159 lbs with:
No muscle

No balance

No coordination
You can see the concentration and focus on Sam's face as he struggles through mobility exercises. Despite working with a professional, he was still struggling eight months later as he slowly went through his exercises. His condition only continued to worsen after that. 
Everything changed after his trips to Stem Cell Institute in Panama. We see a very different Sam Harrell in 2014. He regained his strength and mobility, moving his body with the ease and confidence you would expect from a championship coach. Sam's weight has also improved by gaining 20 lbs during this time as well as 10.2% body fat.
Sam Harrell's life has changed drastically since stem cell therapy for MS. He says that he's feeling good and moving great. Most important of all, he's coaching again! After working as an offensive coordinator for Fort Worth Christian and Southwestern Assemblies of God between 2014 and 2017, Sam officially returned to being the Ennis Lions' head coach in 2018.
Are you ready to learn how stem cell therapy may be able to help you?
Click here
to apply today!
Sam Harrell was forced to retire from coaching high school football after being diagnosed with MS in 2005. Since then, he has received stem cell treatment and has seen a huge improvement in his condition. He sent us a homemade video of his progress to share so you can see firsthand the difference stem cell therapy made in his life. Now, he's coaching football again!
Stem Cell Institute in Panama City, Panama is at the forefront of applied stem cell research. Since our inception in 2006, we have performed over 25,000 procedures, helping thousands of families across the United States and around the world embrace the opportunity for a better life. Our medical team prioritizes the health and well-being of all our patients through top-notch stem cell treatment and care.
Editor's Note: This post was originally published in April 2014 and has been updated for comprehensiveness.