*This article was originally published in August 2018 and has been updated for freshness and clarity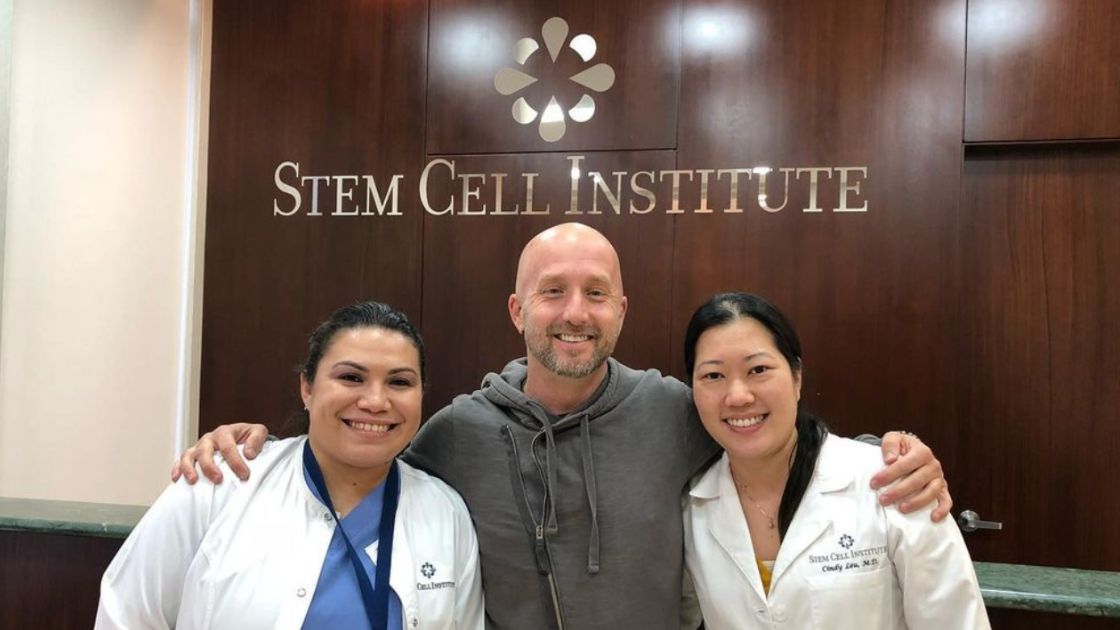 Sonny Mayo has had a successful career in the American metal, hard rock, and alternative music scene since the 1980s. He's worked with influential bands including Snot, Hed PE, and Sevendust in addition to engineering and producing music for other artists. 
Mayo's success was nearly derailed by a genetic coronary artery disease. After two heart attacks, he decided to try a new form of treatment in 2019: stem cell therapy. Since then, Mayo has found a new lease on life. He has become a passionate stem cell advocate while continuing to pursue his passion for music and those in addiction recovery.
Sonny Mayo Seeks Stem Cell Therapy for Heart Issues
Sonny Mayo was in a tough spot. Despite being an acclaimed guitarist who helped define metal, alternative, and hard rock since the late 1980s, he was struggling due to his health. An undiagnosed genetic coronary heart disease had caused two heart attacks and left him with multiple stents in his heart. 
He was doing everything right, including:
Being clean and sober 

Not smoking

Eating a plant-based diet

Taking medications
Unfortunately, all of Sonny Mayo's efforts still left him "deeply concerned." He faced risks of complications concerning the stents he got from the two previous heart attacks, and he wanted to prevent those risks from becoming a reality.
To learn more about how stem cell treatment may be able to help with heart failure,
click here
!
Hope eventually came from an unexpected source—The Joe Rogan Experience podcast. Mayo heard Rogan's interview with Mel Gibson and the founder of Stem Cell Institute in Panama, Dr. Neil Riordan. This led him to look more closely at stem cells to learn what they had to offer. He eventually launched a wildly successful GoFundMe campaign to raise money for treatment.
There Mayo wrote:
"Research is showing that allogeneic mesenchymal stem cells (MSC) are having amazing results in treating various ailments and diseases. Specifically for cardiovascular disease, MSC treatments show suppression of self-perpetuating inflammation (which caused my second heart attack), regeneration of heart cells, healing of scarred arterial tissue, decrease in cholesterol levels, and even prolapsed valve regeneration."
Click here
to learn about Mel Gibson's experience with stem cells!
Sonny Becomes an Advocate for Stem Cell Therapy

"I just kept looking for data," explains Mayo in a podcast interview with Bob Nickman after his treatment. He acknowledges that he doesn't have a medical background. However, he was driven to find and substantiate another option besides more stents and medications. This kept bringing him back to stem cell treatments, and specifically Stem Cell Institute in Panama.
Sonny traveled to our clinic in Panama. During his stay, he received intramuscular and IV treatments for his:
Heart

Shoulders

Calves

Thighs

Joints in big toes
One of the things that really impressed Mayo was the character and concern of our staff and leadership. Although he had enough money for two treatments, our VP advised Sonny to wait six months before scheduling another round. "That's the kind of people that you're dealing with, here," explains Sonny, emphasizing that our main focus is improving the lives of our patients.
Mayo's health has improved dramatically since his treatment. In a recent update, he said:
"After having two heart attacks due to coronary artery disease, I went for stem cell treatment at the Stem Cell Institute. Not only did my heart function improve, but my overall health improved remarkably!"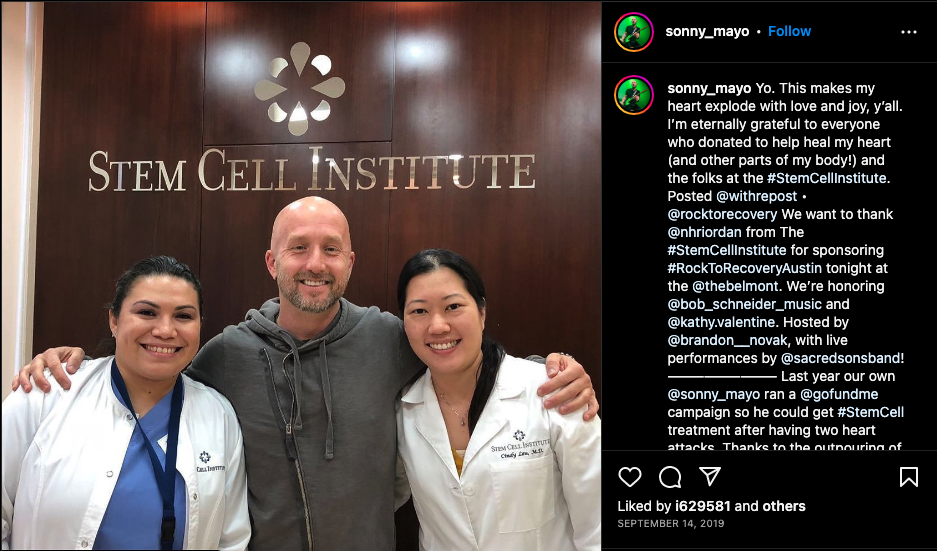 "Yo. This makes my heart explode with love and joy, y'all. I'm eternally grateful to everyone who donated to help heal my heart (and other parts of my body!) and the folks at the #StemCellInstitute. Posted @withrepost • @rocktorecovery We want to thank @nhriordan from The #StemCellInstitute for sponsoring #RockToRecoveryAustin tonight at the @thebelmont."
Do you want to know how stem cells can improve your life?
Click here
to apply today!
Sonny Mayo has been a driving force behind American rock music. When diagnosed with genetic coronary artery disease, he reached out to Stem Cell Institute for help. He saw improvements with his joints in less than a month and can tell inflammation in his body has gone down. This has freed him up to focus on Rock to Recovery, his charity for those in addiction recovery.
Stem Cell Institute in Panama City, Panama is at the forefront of applied stem cell research. Since our inception in 2006, we have performed over 25,000 procedures, helping thousands of families across the United States and around the world embrace the opportunity for a better life. Our medical team prioritizes the health and well-being of all our patients through top-notch stem cell treatment and care.