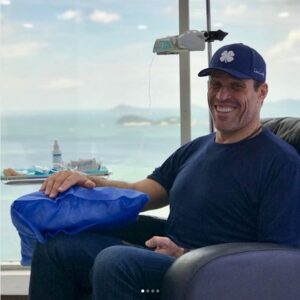 Visit Tony at https://www.tonyrobbins.com
"Feeling absolutely invigorated after our trip to Panama this weekend, where I received the transformative benefits of stem cell therapy! Our huge thanks and honor to all the doctors and the bright, caring medical staff at the state-of-the-art Stem Cell Institute in Panama City, Panama ??. Stem cells saved my shoulder after struggling with excruciating pain from spinal stenosis and, more recently, a torn rotator cuff. Stem cell treatment is truly a next-level health innovation that can reverse the wear and tear we put on our bodies and prevent debilitating disease and injury from escalating further ?. This technological advancement will impact humanity in life-changing ways— it has the potential to transform and save MILLIONS of lives!…"  View Original Instagram Post
.
[fusion_title margin_top="" margin_bottom="" hide_on_mobile="small-visibility,medium-visibility,large-visibility" class="" id="" size="2″ content_align="left" style_type="none" sep_color=""]
Read Dr. Riordan's Amazon #1 best-selling book about stem cell therapy today
[/fusion_title]
"Neil takes readers on a riveting journey through the past, present and future of stem cell therapy. His well-researched, educational and entertaining book could change your life. I highly recommend it." – Tony Robbins, NY Times #1 Bestselling Author 
Stem cells are the repair cells of your body. When there aren't enough of them, or they aren't working properly, chronic diseases can manifest and persist.
Neil H Riordan, PA, PhD, author of MSC: Clinical Evidence Leading Medicine's Next Frontier, the definitive textbook on clinical stem cell therapy, brings you an easy-to-read book about how and why stem cells work, and why they're the wave of the future.
From industry leaders, sport stars, and Hollywood icons to thousands of everyday, ordinary people, stem cell therapy has helped when standard medicine failed. Many of them had lost hope. These are their stories.
[fusion_button link="https://www.amazon.com/Stem-Cell-Therapy-Disrupting-Transforming-ebook/dp/B071GRNQPX" title="Purchase Stem Cell Therapy – A Rising Tide on Amazon" target="_self" alignment="center" modal="" hide_on_mobile="small-visibility,medium-visibility,large-visibility" class="" id="" color="default" button_gradient_top_color="" button_gradient_bottom_color="" button_gradient_top_color_hover="" button_gradient_bottom_color_hover="" accent_color="" accent_hover_color="" type="" bevel_color="" border_width="" size="" stretch="default" shape="" icon="" icon_position="left" icon_divider="no" animation_type="" animation_direction="left" animation_speed="0.3″ animation_offset=""]Purchase[/fusion_button]