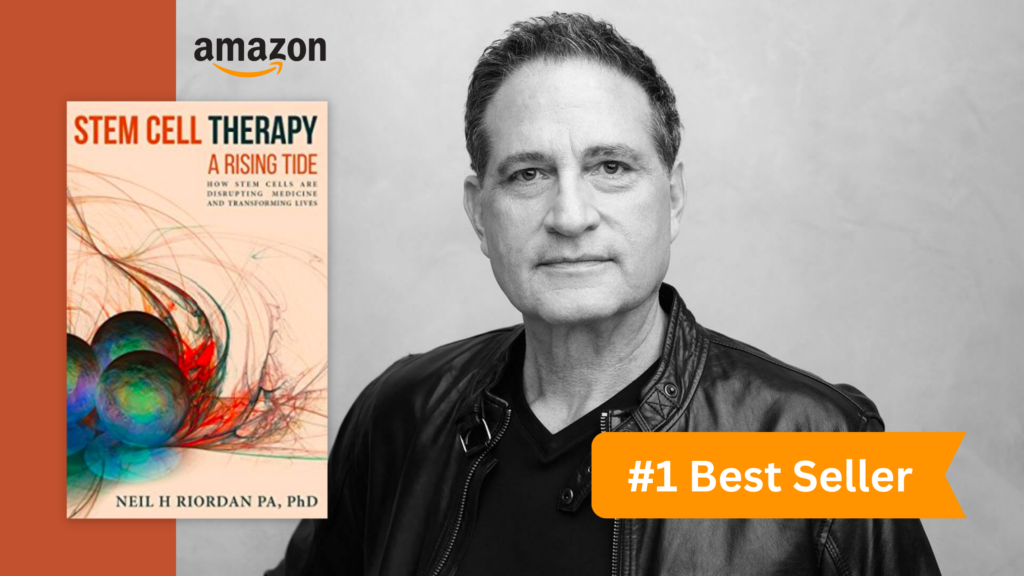 Stem cells are a popular topic on the internet and in the news, but they can often be misunderstood. With seemingly endless possibilities for how to use stem cells in regenerative medicine, people often ask questions like:
Can stem cell research make us immortal?

Can human organs be grown from stem cells?

Why can't the entire human body be composed of stem cells?
While these questions seem bizarre, they are real questions people ask about the concept of stem cells. Stem cell research is complex, and it is often talked about in a way that is hard to understand.
Luckily, there are trustworthy sources that make information related to stem cell therapy easier to digest. Our top recommended source for information on stem cells is a book by Neil Riordan, PA, PhD, Stem Cell Therapy: A Rising Tide: How Stem Cells Are Disrupting Medicine and Transforming Lives. 
Dr. Riordan is a medical pioneer who has published numerous papers in peer-reviewed medical journals, has 17 families of patent applications, and has decades of experience developing and administering stem cell treatment to patients in need. His book is a frequent #1 Best Seller in Medical Research on Amazon, and it is touted by many other authors and medical professionals for its ability to explain stem cell science through engaging stories.
"Neil takes readers on a riveting journey through the past, present and future of stem cell therapy. His well-researched, educational and entertaining book could change your life. I highly recommend it."
– Tony Robbins, NY Times #1 Bestselling Author, Coach, Speaker, and Philanthropist
"100 years old will soon become the new 60.  Stem cells are a key therapeutic to enable this future. Dr. Riordan's book is your guide to why this is true and how you will benefit. A must read for anyone who cares about extending their healthy lifespan."
– Peter H. Diamandis, MD; Founder, XPRIZE & Singularity University; Co-Founder, Human Longevity, Inc.; Author of NY Times Best Sellers Abundance and Bold
Filled with patient stories, interviews with medical professionals, and plenty of information on the science behind stem cell therapy, this book is a great starting point for anyone interested in learning more about stem cells. 
Some of the other concepts the book walks through include:
Stem cell therapy for multiple sclerosis

Stem cell therapy for heart failure

Stem cell therapy for frailty of aging

Stem cell therapy for arthritis

Stem cell therapy for autism
These conditions and more are all treated at Stem Cell Institute, our leading stem cell therapy center in Panama City, Panama, founded by Dr. Neil Riordan. At our treatment center we use the specially-selected Golden Cells™ that Dr. Riordan discusses in his book for all of our treatments. They come directly from human umbilical cords that have been donated following normal, healthy births.
Stem Cell Institute is proud to treat people suffering from chronic illnesses or injuries who haven't found success through traditional medicine.
Here's what other readers had to say about Stem Cell Therapy: A Rising Tide by Dr. Riordan:
"This is the future of medicine. The story: The founder of a world class clinical treatment center describes his successes in treating many previously untreatable conditions. His book is full of patient stories, scientific evidence, and chronicles his journey, collaborating with many researchers and clinicians. Results are absolutely amazing. I highly recommend this book – it brought me tremendous hope for the future."
– Gordon Trockman
"I never thought a book about stem cells would be a page turner. I absolutely love the recovery/healing stories from patients, and this gives so much hope for the future. A big thank you to Dr. Riordan and everyone involved, so proud of what you've achieved and looking forward to seeing further research & development. I'd already listened to the Joe Rogan podcast with Mel Gibson and Dr. Riordan so I was not sure if I needed the book, but it goes so much deeper with much more detail…it's a thumbs up from me."
– Ola Nottero
"This makes me want to get on a plane to Panama and get my first doses. Everyone I talk to when I regain them with some of the details of this therapy says 'I want some of that.'"
– Rob Martin
For anyone interested in learning more about how stem cells work, this book is for you. It's easy to read, making the information accessible to people with or without a science background. It is also currently available on Kindle Unlimited, or you can download a free PDF book chapter by filling out the contact form on our website.